I've already made every imaginable mistake so that you don't have to.
---
American Express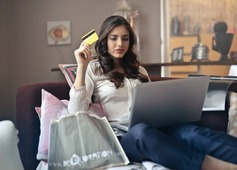 Photo Credit: pexels.com Andrea Piacquadio
Credit > American Express > Begin >
Important Disclaimer
I created this site's series of American Express related pages from publicly available information with no involvement from American Express.
Should any one or more features be critical in your decision to apply for an American Express product, please verify the details of those features with American Express.
As you proceed through this section, I would like to emphasize in the strongest possible terms that I am not now, nor have I ever been, employed by American Express.
Regardless of the certainty with which I make any one statement, in no way whatsoever do I speak on behalf of American Express.
As of April 22, 2023 the following link:
https://www.americanexpress.com/en-us/network/breadfinancial/legal/trademarks.html
States:
"The American Express name and logo, as well as the imagery and design of the American Express® Cards and other content featured in this site are trademarks and intellectual property of American Express. The following is a non-exhaustive list of American Express trademarks, which may appear on American Express Websites.
AMERICAN EXPRESS®
AMERICAN EXPRESS Blue Box Logo
ENTERTAINMENT ACCESS®
Connect™
Amex® Offers
Amex® Essentials"
From the perspective of the excerpt "in this site" refers to the americanexpress.com website.
I have copied the excerpt to unambiguously acknolwedge that American Express owns those trademarks.
American Express is a US headquartered global issuer of charge and credit cards.
Account numbers start with 3.
The American Express mass-market premium card is the Platinum charge card.
When many retired people think of American Express, they may think of travellers checks.
For many younger people, American Express may be almost a synonym for charge card.
However, in addition to charge cards American Express also offers a selection of revolving credit products.
For non-cobranded cards, sign-up bonuses and reward types will be either Membership Rewards or Cashback.
American Express cards can be one of:
Personal cards

Small Business cards

Corporate cards
This website will focus on personal and small business cards.
If you have a corporate card, you may receive a discount on an annual fee for a personal or small business card.
Other than the statement above, corporate cards are out of scope for this website.
---