I've already made every imaginable mistake so that you don't have to.
---
Credit Card Myths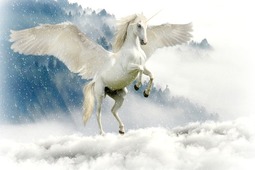 Photo Credit: cocoparisienne Pixabay.com
Credit > Credit Cards > Myths >
Important Disclaimers
This page will highlight some common myths related to credit cards in the United States.
If you reside outside the United States, I have no idea whether this information is of any relevance to you.
This web page references brands such as FICO and VantageScore.
This website has no association of any kind with either of those brands.
According to https://www.fico.com/en/legal "FICO is a registered trademark of Fair Isaac Corporation."
According to https://vantagescore.com/terms-of-use "VantageScore and its logo are trademarks of VantageScore"
There might be specialized cards with logos such as Visa and Mastercard that charge interest on all transactions.
For example, there might be debit cards that allow you to borrow money against your brokerage margin account if the cash in your account cannot cover your charges.
That was one scenario I could come up with.
There may be others.
However, for most of us using mainstream credit cards, it is a myth that using a credit card means that in all cases you will be charged interest.
For the majority of us, a credit card transaction will accrue interest only under one or more conditions such as the following:
You have only been paying a minimum payment that is less than your statement balance.
You have taken out a balance transfer to the account.
You have taken a cash advance on the account.
You have made a transaction that might not be a literal cash advance but might code as a cash advance.
An example might be buying chips used for gambling at a casino.
Regularly visiting casinos is absent from my otherwise formidable list of vices, so you will need to rely upon your own experience as to whether buying gambling chips codes as a cash advance.
One credit card myth that I often hear is that in order to build credit with a credit card a consumer needs to carry balances on his or credit card.
While the exact algorithms underlying FICO and VantageScore credit scores are trade secrets, there is nothing to suggest that carrying a balance on a credit card is required in order for you to build credit using a credit card.
Your goal should be to spend on a credit card and then pay the statement balance by your payment due.
That will allow you to build credit while not accruing interest.
If you go through the pages later in this Credit Card series of pages on this website you will learn how if you are using your credit card appropriately, it is possible that you may have a positive current balance at any one point in time but not be carrying a balance.
​

Credit Limit and Account Closure
Another common myth is that the issuer of your credit card accounts cannot lower your credit limits or close your accounts without your approval.
Charge cards and credit cards are examples of revolving lines of credit.
With a revolving line of credit:
you spend a given amount,

you make at least the minimum payment by the next due date,

you are then free to repeat the pattern
until any one of:
The financial services company closes the account.

The financial services company suspends your spending ability.

You close the account.
It is important to understand that a provider of revolving credit:
can lower or raise your credit line,

can suspend allowing you to use the credit line,

or can close your account.
Important reasons that might cause a financial institution to take action that you do not desire:
Your personal credit deteriorates.

The economy deteriorates.

Management of the financial institution decides to exit the line of business your credit product is in.

Inactivity.
Even if both your personal credit remains excellent and the overall economy is excellent, a financial institution might close your credit card if you have not used it in a given amount of time.
What is "a given amount of time"?
There is no definitive answer.
I suggest that at least every 6 months you put at least a token charge on credit card accounts that you prefer to keep open.
For example, you might have a store card for a home improvement chain.
The economic roller coaster of the last few years has meant that the start date of your home improvement project has kept getting moved back.
At the moment you have no idea when you will try to schedule that bathroom remodeling project but you are certain you want to get it done at some point in the next few years.
Consider paying for paper towels or laundry detergent at the home improvement store with the store card every 6 months.
If you do pay with a card that you do not otherwise frequently use, pay particular care to make sure that you pay the credit card account itself on time.
Try to avoid viewing a credit card account as an emergency fund.
Available credit on a credit card may or may not be there in an emergency situation.
What is not a myth is that people routinely get themselves into financial difficulty by viewing and even spending their available credit as if it were money in their checking account that can be spent without having to pay it back.
Maybe not every day, but almost every day, I stare at the specifications of a laptop I placed in an online shopping cart several weeks ago.
On many occasions, I almost convinced myself that it would pay for itself with greater productivity.
However, even should I have a zero percent interest financing offer, I would still need to pay off the principal.
If you are working on a feature film or a television series, it might actually be prudent to get the very latest stable available equipment.
For what I am trying to do, my one year old laptop is perfectly fine.
These myths are so pervasive that it may turn out that I am running a long-con on myself if I think I can debunk them on my own.
---