I've already made every imaginable mistake so that you don't have to.
---
Hotel Loyalty Programs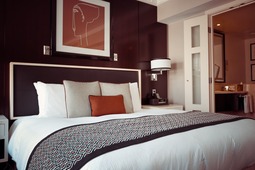 Photo Credit: pexels.com Pixabay
Travel > Loyalty Programs > Hotel Loyalty Programs >
Hilton, Marriot, Wyndham and other hotel chains have associated co-branded credit cards.
Some of these co-branded credit cards provide status in the hotel chains loyalty program.
If you use a credit product to receive a given status, to advance beyond the tier which the credit card provides, in some cases you may need to meet spending requirements from the bottom status tier through the status tier you desire.
Some benefits of status in a hotel chain may either be difficult to quantity or have little value.
While status in a loyalty program might mean you are theoretically eligible for room upgrades, there may be no upgrades available.
If you go to Fort Lauderdale during spring break you should not expect a room upgrade.
Several years back gold status in the old Starwood Preferred Guest loyalty program in a hotel largely targeting business travelers did once get me a very nice upgrade on a weekend night.
Some benefits of status in loyalty program are easy to quantify.
Some of the brands under the Hilton umbrella provide a daily food and beverage credit if the person checked in is a Gold or Diamond member.
Example Loyalty Program
Be certain to read the terms and conditions for any particular hotel loyalty program you are interested in, but below is an example how one might be able to advance through a hotel loyalty program through either "heads in beds" stays versus through a benefit from a credit card. An actual hotel loyalty program may also have restrictions on a minimum number of stays not just nights stayed.
A hypothetical hotel loyalty program might have the following tiers:
Beginner
Requires 5 nights to reach.
Intermediate
Requires a total of 10 nights to reach.
Advanced
Requires a total of 20 nights to reach.
A customer may have a co-branded credit card that provides Intermediate status just for having the card, though registering the status with the chain may or may not be required.
If the customer wants to receive Advanced status the customer will usually have to meet the 20 night required for Advanced ( NOT the 10 night difference between intermediate and advanced ), or get a more premium credit product that provides Advanced status, should such a product exist.
---